Electric Thermal Oil Furnace Working Process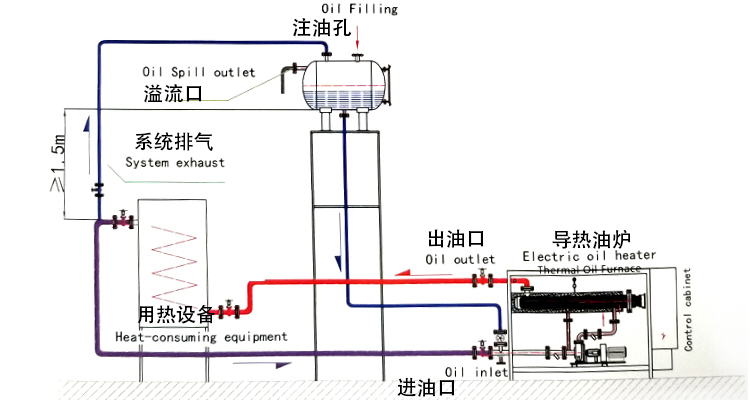 Electric thermal oil furnace is made up of heater body,circulation pump,expansion tank,oil and gas separate,control panel. The electric heating tube will be directly inserted into the organic carrier (thermal oil furnace) for heating. Using circulation pump to force the thermal oil to operate as liquid circulation,then heating one or more heated equipments. And after unloaded the heated equipments,re-passing the circulation pump return to the heater,then absorbing the heat,transferring to the heated equipment,so that the heat is continuously transmitted. Rising the heated media temperature to meet the heating process requirements. Wish it will be useful to you when operating.
Thermal oil furnace often controlled by PID and PLC. Through open and off solid state relay to control outlet temperature. Main electrical elements will adopted DELIXI in control panel. Heater control adopted high accuracy temperature controller to control heater outlet temperature. To ensure outlet temperature up to technical required. Heater choose one temperature testing point,inner temperature testing element is PT100. By testing heating elements surface temperature,will transfer over-heat protection temperature testing signal,if appeared over-temperature will alarm.
Using control panel functions as follows:heating system open and stop controlled,heater open and stop signal indicated,outlet temperature indicated and controlled,heating tube temperature indicated and controlled,three phase electric current,voltage indicated,system electric indicated, alarming indicated,fault linked locked and electric protective automatic.
Our company has devoted on industrial heater for 7 years, we have established our own designing, producing and selling team.